Why create an in-house discount plan with Careington?
---
Careington has been a pioneer in the discount dental industry and is a clear leader in dental plan administration. Take a look at why many DSO groups choose Careington for their in-house discount plans.

Customization
We fully customize in-house discount programs that bring tremendous results to your practices. When you partner with us to develop your discount plan, our first priority is to understand your organization and your goals. Each piece of the program is carefully crafted with these goals in mind, providing a level of customization that is second to none. While we will guide you in creating a competitive plan, you have the flexibility to create your own fee structures and plan pricing.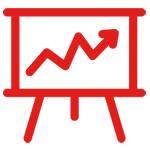 Marketing Expertise
Our in-house design, web and copywriting teams can create all plan materials, including brochures, handouts, posters, websites with online enrollment functionalities and more. They will work with your teams to ensure that all branding guidelines and requirements are met, and they are dedicated to developing compelling pieces for the program.

Compliance
Careington is a leader and expert in discount health care regulations across the United States. We offer our clients the full support and expertise of our Compliance Department to ensure all aspects of the plan meet all regulatory guidelines. We are a licensed Discount Plan Organization in all states that require licensure and are a founding member of the Consumer Health Alliance - the national trade association for discount health care programs.

Administration
We offer state-of-the-art administrative and support services to a broad range of clients, including many DSOs across the U.S. As the administrator of your plan, our role in providing support includes:
Custom branding and content creation
Website design, construction, ongoing maintenance and plan enhancements
Payment processing with recurring billing functionality
Flexibility in accepting various forms of payment methods: credit/debit cards, e-check, bank draft and cash
Customer service
Fulfillment kits, including membership cards
Customized reporting back to the group
Customer Service
Our onsite, multi-lingual call center is dedicated to providing best-in-class customer service Monday - Friday from 7 a.m. to 7 p.m. CT. This team can assist your patients with pre-sale questions, enrollment, plan information, billing inquiries, account updates and more.